Secret 2 Success
If you're searching for a "secret 2 success" on the web, then you're going to discover sooner or later that there's a lot of success secret information out there that is repeated all over the internet.
It might be helpful to you to to have a summary of some of the best success secrets floating out there so that you're not spending hours jumping from one site to another only to find that the knowledge that you seek is, well, maybe not quite what you expected.
So please, accept this section as a sort of side-issue information filler. It may have some stuff that is good background. But, it's unlikely (although not impossible) that it will form "mainstream", usable knowledge for you. If it does however, then I'll be just as pleased as you!
Articles in this section: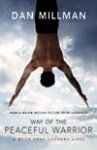 Dan Millman, The Peaceful Warrior
Unashamedly lifted from Dan Millman's latest email to me, I just had to share these Reminders for Life
Life Lessons for Susan
Susan didn't expect life lessons... All Susan wanted was a little independence from her parents and a darned good night out!
The 10 Principles of Success The 10 Principles of Success" appears to be a syndicated article originally written by Christian Csatari. My advice? It's good but ...
Passion - Theo Paphitis How to know when someone has a passion for something
---
Secret 2 Success back to Practical Success Secrets home page