Passion
How Theo Paphitis explains it!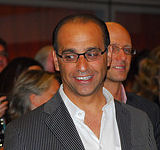 Theo Paphitis
photo courtesy of
Ben Sutherland at Flickr
I heard an explanation of passion today that made me smile. I was listening to Steve Wright on BBC Radio 2 this afternoon with guest
Theo Paphitis
who made a simple but effective explanation.
But before I relate it to you, for anyone who doesn't know of Theo Paphitis, a brief introduction may help.
Theo was born in Cyprus in 1959. He came to England with his family when he was a young boy - around six years old if I remember correctly. Starting work as a tea boy at Lloyds of London at age sixteen. Two years later he got a job as a salesman in a Swiss watch shop in Bond Street, London, where he discovered a real enthusiasm for retail business. Two years later he moved into finance and three years later he started his own business specialising in retail recoveries and turnarounds.
Continued business growth saw Theo take on the ailing Ryman stationary retail business, the La Senza and Contessa lingerie chains, and Red Letter Days.
Theo came to wider prominence when he became one of the Dragons on the popular BBC TV show Dragon's Den.
Theo Pahitis is reported as being worth GBP £160 million (US$242 million) in the 2010 Sunday Times Rich List.
So, Theo Paphitis's explanation of passion?
"..if your boring all your friends down at the pub with the same topic of conversation you've got passion!"
---
Passion - Theo Paphitis

back to PSS Blog

back to Secrets 2 Success back to Practical Success Secrets home page