The
SUCCESS SECRETS
Newsletter Deal!
You're looking for success secrets, right?
Listen.
Success comes from knowing:
what you want to achieve
what you need to change to achieve it
how you're going to make that change, and
how you'll recognise it when you've achieved it
Simple! Yes?
If you're not so sure though, and think that you may wish to know some of the detail here's the deal on offer - it has three parts:
&nbsp
---
&nbsp
First
The newsletter will keep you upto date on:
success priciples
success thinking
success actions
success obstacles
(and overcoming them)!
success factors
success resources
success preparation
success management
success laws
success examples
success quotes

and lots, LOTS, LOTS more!
Second
If you're like me, you won't want to waste your time reading newsletters continuously trying to sell you something.
I send out usable information - not sales pitches!
I write when the information's ready - not to meet an imaginary deadline!
On one of my personal email accounts I receive around 250 spam emails each day - it's time wasting, it's annoying and it contributes to slowing global internet systems as well as carrying security risks.
I don't like Spam - I assume that you don't either!
I do not sell my subscriber list
I do not rent out my subscriber list
I do not give access to my subscriber list to third parties.
Link from this Success Secrets Newsletter Deal to Privacy Policy opens in new window
Third
To give you an EXTRA start, I'll give you a copy of my report:
The Bits of your Life that You CAN Change!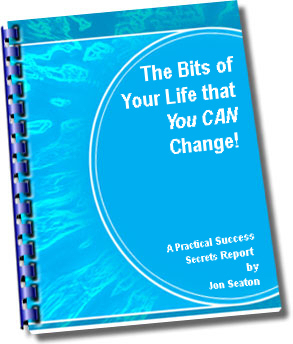 That's thirty pages of solid success material that will really get you thinking!

Are you ready to start getting serious about YOUR SUCCESS ?

Fill in the form below