Authentic Success
If you're still wondering what authentic success is, and you've already read The Key to Master Success you may have realised that there is a trap that captures most people.
Most people want to enjoy the trappings of success, and there's nothing wrong with that. The trap that most people fall into though is this:
They chase the trappings of success,
instead of the success itself!
Listen, here's an example of authentic success from today as I write this article: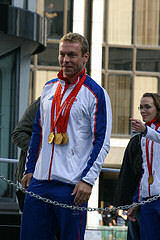 Sir Chris Hoy
photo courtesy zoonabar
at Flickr
Chris Hoy won three gold Olympic medals for the United Kingdom at the Beijing Olympics in 2008, in the team sprint, men's sprint and the Keirin. It's quite an achievement, and Chris became the first Briton to win three Olympic golds in a hundred years. Yes, I know that others have achieved more gold medals at other times, but I personally think that it is a great achievement. I certainly wouldn't want to say, "Well heck, Mark Spitz got more than that!" The fact is that they're both great Olympians and there are many more great olympians too. Simply becoming a great Olympian is a huge achievement in itself, and ranks an individual amongst the best athletes in the world throughout the whole of human history.
(By the way, if you'd like to hear an Olympian who will tell you about authentic success I suggest you visit my pal Ruben Gonzalez's site).
Back to Chris Hoy ...
Chris Hoy's authentic success was in cycling.
As an athlete he's ranked himself amongst the best in the world. As a cyclist he is number one in the world - no-one better. That is authentic success.
Today is special for Chris. Today, he went to Buckingham Palace and was knighted, becoming Sir Chris Hoy. Special also because his mother Carol, a nurse who specialised in sleeping disorders was awarded an MBE (Member of the British Empire) medal in recognition for her services to healthcare. It would seem that success and the spirit of success runs in the family.
As I researched detail for this story, I also discovered that Sir Chris Hoy won the sportsman of the year award during his time at St. Andrews University in Scotland where he studied Maths and Physics in the nineties. He's also been named as BBC sports personality of the year, and returning to his former university, he is to be awarded an Honorary Doctorate in Science in June 2009.
In August 2008, on his return from Beijing, he was accorded a position in the Edinburgh open-top bus parade to welcome back the Olympic heroes, where thousands packed the Royal Mile to see the winners. Despite a bad crash whilst racing in late 2008, in which he caused serious hip damage, Sir Chris is getting on track to compete in the 2012 Olympics.
These are his own words, "I still feel like I'm a novice in some respects in the new events that I'm doing, in the sprint and the keirin, so there are skills development and tactical things that I'll work on over the summer.
"I still feel I've got room to improve.
"The next big target won't be until October with the start of the World Cup season, but there are plenty of Grand Prix and races round Europe, so I'll be kept busy.
"Once I'm racing again in June or July, I'll be right back into the thick of it."
Quite a guy, huh?
Now, here's the thing:
Sir Chris has received accolade upon accolade, from the Queen, from the public, from academia.
He is known, recognised and lauded throughout the UK and particularly Scotland as well as further afield.
No one can doubt his fame and celebrity.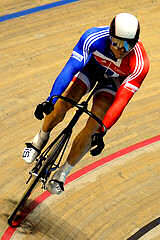 Sir Chris Hoy in action!
photo courtesy johnthescone
at Flikr
Sir Chris is continuing to follow his love of competitive cycling, but I doubt that there will be any more scrabbling for sponsorship money to fund his equipment, his clothes, his travel and accommodation expenses etc. In fact, if he retired from competitive cycling right now, I am pretty sure that he would have no shortage of financial backers for whatever business ventures he wanted to follow. Do you?
Is he really going to find money a problem? Errr.. I think not! He's more likely going to have enough money to enjoy life for a considerable time, and that's without anything else he may achieve.
Here's the bit you need to understand:
Sir Chris Hoy didn't get fame and fortune by trying to get as much money as he could, or by trying to impress, or make friends with as many people as possible.
No! Sir Chris Hoy got his fame and fortune by getting good at doing what he loved doing. Cycling.
He's a great example of authentic success. But he's not the only one. There are plenty of successful people around. There is likely one who lives not too far from you, and there are certainly plenty seen in the press every single day of the year.
---
Authentic Success

back to Success Articles

back to PSS Blog back to Practical Success Secrets Home Page